BUSINESS CENTRAL makes it possible to connect every aspect of a growing small to mid-size business in one platform – Finance, Accounting, Operations, Sales and Inventory. As such, BUSINESS CENTRAL makes it possible to monitor and create reports on every aspect of a business, overlapping functions and information.
While users can build customized reports, one of the most efficient solutions we have found to get clients up and operational with BUSINESS CENTRAL quickly and accurately is JET REPORTS.
JET REPORTS is Certified for Microsoft Dynamics (CfMD) and available on Microsoft AppSource. It is a fast, accurate business reporting solution that expands the reporting capability of 365 BUSINESS CNETRAL. It's designed to get you up and running in hours, not weeks or months, with an extensive report library of ready-to-use out-of-the-box reports, an intuitive design to assist users in building custom reports and 24/7 support resources. With JET REPORTS, users have the autonomy to easily build, distribute, and automate unlimited custom reports without relying on or needing technical expertise.
Because JET REPORTS integrates seamlessly with 365 BUSINESS CENTRAL, data is pulled directly from the ERP database. There's no manual exporting, no copying or pasting, eliminating errors. Data is dragged or dropped from any table to build everything from simple financials to advanced operational reports that can be refreshed real time, on demand, with the click of a button. Because Dynamics 365 BUSINESS CENTRAL is cloud based, users can access and run reports from anywhere on the web.
Another plus with JET REPORTS is the integration of graphics in reports. Graphs help viewers visualize the data and relationships between numbers, showing trends, gaps and clusters, and comparing multiple data sets at once. The ability of a graph to accommodate large sets of data provides a compact way of presenting information that can be more easily grasped by staff members more visually oriented.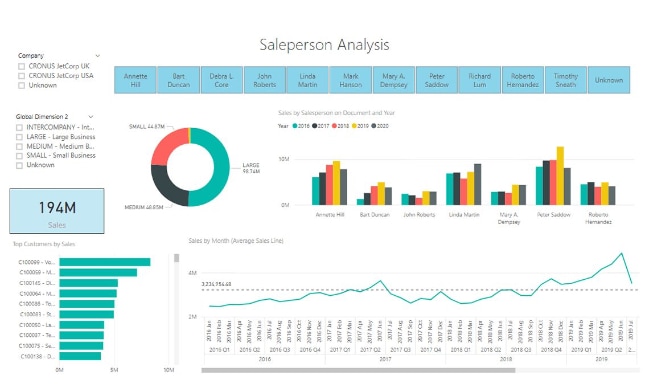 In this sample JET REPORTS Salesperson Analysis you can quickly see which sales people have been the most productive over the past five years, top customers in terms of sales, which customer segments account for the majority of the company's sales and the sales volume over the last four years. That's a tremendous amount of information conveyed at a glance. Accurate data, accessible and easily incorporated in reports gives management the ability to make better decisions. And, that is the ultimate purpose of enterprise resource planning software.
By combining the out-of-box reporting functionality from Business Central and JET REPORTS, you will be sure to have a 360 view of your business operations. Make informative decisions based on real-time dashboards.
For more information on JET REPORTS and why WhiteOwl recommends this app to 365 BUSINESS CENTRAL clients, please contact the team at WhiteOwl.
WhiteOwl has been a Microsoft Gold Partner since 1996 and has established expertise in Microsoft Dynamics 365 BUSINESS CENTRAL. WhiteOwl helps to capture the value of cloud-based Enterprise Resource Planning and optimizes your investment in BUSINESS CENTRAL. Part of our approach is to focus on the broader, long-term implications of technologies and how ERP best fits within your organization.