Practically all Miami businesses rely on at least one piece of software. What makes any piece of software an essential business component is not whether users and non-users necessarily clamor for it, but whether it is properly integrated into your system.
Poor software integration might translate into more IT-related hassles and huge consultation costs, so even small companies should be concerned about this aspect of their IT. But is it worth spending considerable resources on software integration quality?
Related: The benefits of software development and integration
Do businesses lose money on poor software integration?
In a nutshell, yes. According to a recent study, poor software integration cost enterprises an average of $500,000 in 2019 due to lost orders, discrepancies in information, and bureaucratic transaction processes. Of the 100 companies surveyed, over 30% had a revenue of $100 million and below. Given that 66% of US small businesses earn $100,000 or less in a year, even a 2% loss from bad integration is nothing to sneeze at.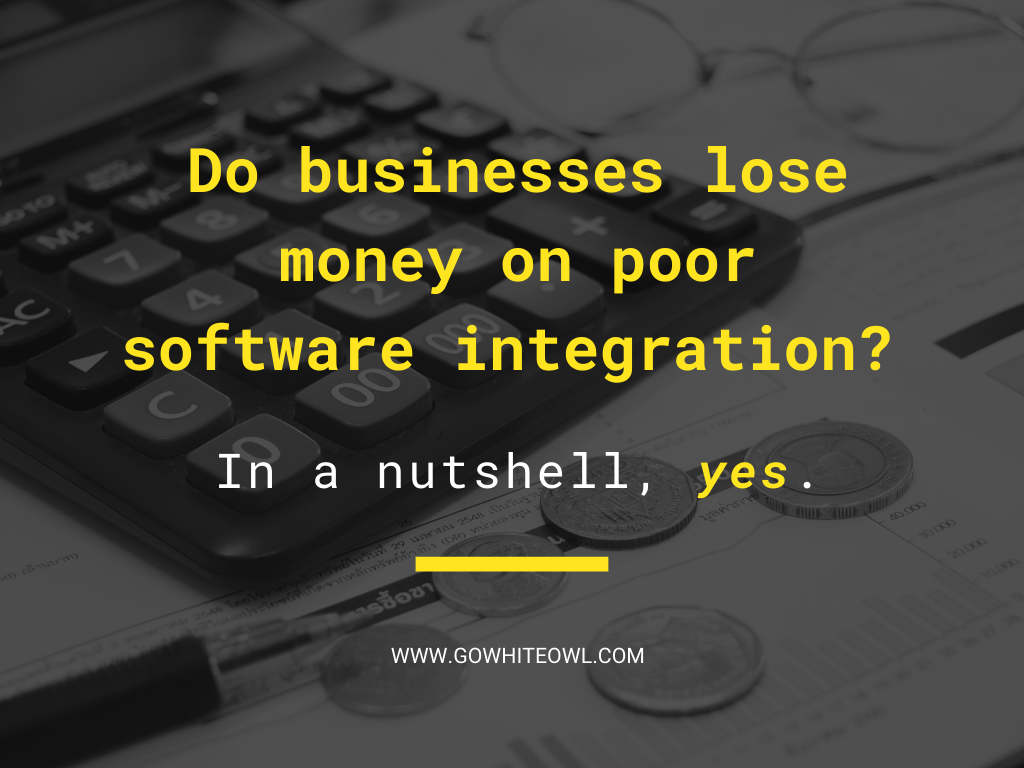 The importance of an effective system
The study also emphasizes that almost all of the respondents were aware of the importance of a well-planned and well-executed system to drive revenue. For them, the main reason for failing to deploy a cohesive software strategy was a lack of tools, strategy, and resources.
Moreover, the following were found to be the sentiments of the respondents:
38% expressed a lack of confidence in their capacity to meet integration standards needed to fully enable their business ecosystems;
63% claimed to experience difficult client onboarding procedures, stating that they're too complex and take too long;
28% admitted that they do not have the internal expertise to build and manage integrations between systems and software;
22% stated that their legacy system causes significant delays in their organization's ability to generate revenues; and
81% believed that updating their legacy system will drive their company forward to meet business goals.
In short, SMBs know that they need a properly integrated software system, but many lack the resources to build one. This is why it's important to discuss with a managed services provider (MSP) how to tackle software integration problems.
Related: How managed services providers make businesses more profitable
What can MSPs do?
Microsoft Service Providers (MSPs) are an effective and cost-friendly alternative to doing system integration in-house. They eliminate the problem of disparate systems by providing Software-as-a-Service (SaaS) options composed of individual solutions that work well together. With SaaS, you can benefit from just one product or service at a time as your budget permits, without worrying about difficulties in the future should you need to avail of another solution.
With an MSP, integration will be coherent and strategic. Here at WhiteOwl, we'll discuss your needs and assess your present hardware and budget considerations so we can craft a plan that will meet your goals. And because our products and services are powered by the cloud, we can deploy your plan with as little disruption to your operations as possible.
The best part about partnering with an MSP is the immediate cost benefits. You save on capital costs associated with acquiring new hardware, as an MSP can supply you with software compatible with your existing hardware. You also save on operating costs as MSP services can be purchased on a budget-friendly monthly subscription.
With an MSP, your costs become easier to anticipate; scaling up or down will not incur large expenses. That means your resources get freed up as necessary and you can be assured that every piece of software will seamlessly work with one another.
Put an end to money drain due to poor software integration. We'll make sure your information system works as one powerful, cohesive unit. Contact us today to learn more about our software development and integration services.
Your Business is Ready for Managed Services!
We're willing to bet our free eBook: 20 Signs That Your Business is Ready for Managed Services, contains at least one observation that describes the problems pestering your IT.