Dynamics GP has been one of Microsoft's enterprise resource planning (ERP) solutions. Despite its reliability a growing clamor for smarter and more robust ERP solutions has led the company to develop a new suite of cloud business solutions designed to propel enterprise into the future.
Migration is a daunting task for any business, especially when it involves moving from a purely local solution like Dynamics GP to a cloud-based one like Business Central. Fortunately, Microsoft is making this process easier.
Dynamics 365 Business Central
Dynamics 365 Business Central is a powerful business solution that allows users to streamline processes, make smarter decisions, and accelerate growth. This robust ERP takes all of Dynamics GP's capabilities up a notch, giving businesses increased financial visibility, optimized supply chains, boosted sales, and efficiently executed projects.
Business Central connects data across accounting, sales, purchasing, inventory, and customer transactions, providing users with complete visibility and intensive reports to boot. With this software, you'll be able to identify patterns and trends, gain new insights, and enjoy in-depth analyses across unlimited business dimensions. You'll also be able to ensure compliance for your business, as well as enjoy seamless integration with other Microsoft applications such as Excel and Outlook.
Related article: Why Dynamics 365 Business Central is the better cloud ERP solution
Why migrate?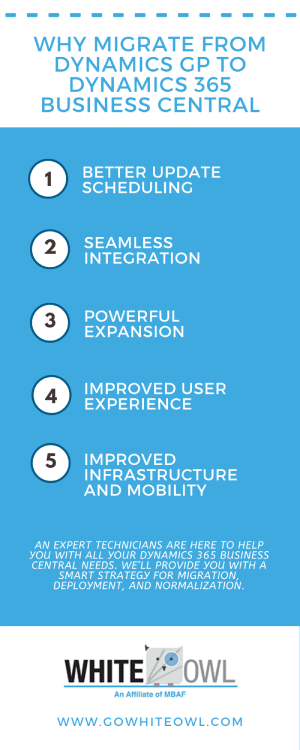 Better update scheduling – With Business Central, you'll get major updates every six months and regular smaller updates every few days. These patches will address security requirements above all, but you can expect interface and processing improvements with the bi-annual major updates.

Seamless integration – Business Central is a tenant of the Microsoft software family, giving it tight integration with the Office 365 platform. To put it succinctly, the more your organization uses Office 365's suite of applications, the deeper your integration will be with Business Central. You'll even enjoy automated email logging, access via Outlook add-ins, and robust import and export utilities through Excel Add-ins.

Powerful expansion – The Business Central suite is designed to easily leverage expansion applications such as Power BI and Flow. Power BI is a powerful data processing application that enables your business to generate analytics at the enterprise scale. Flow is a process management tool that leverages digital and robotic process automation to boost productivity. These expansions are used by the biggest companies in the world but are both available to businesses of all sizes through a cost-efficient subscription model.

Improved user experience – Business Central offers a more modern look and feel making use of intelligent design to give your employees a better overall user experience.

Improved infrastructure and mobility – Business Central is a cloud-based solution which means zero server-related costs for your company. It's a web browser-based system, resulting in minimal installation and setup requirements. And because it is hosted in the cloud, your users will no longer be limited by stationary devices and can stay connected to clients, suppliers, and team members wherever they go.
Related article: Top reasons to migrate from Dynamics GP to Business Central
Dynamics GP migration tool
This extension makes it easy to migrate customers, vendors, inventory items, general ledger accounts, open payables and open receivables transactions from Dynamics GP to Business Central. If your business uses Dynamics GP today, you can export the relevant records and then open an assisted setup guide to add the data to Business Central. The migration extension works for all supported versions of Microsoft Dynamics GP. For more information, see Importing Business Data from Other Finance Systems.
Advanced migration options are also available if you wish to retain your current GP configuration and would prefer to not have to manually configure Business Central post-migration. For this, Microsoft has made available a GP-to-BC connector called the Intelligent Cloud replication process. This requires GP 2018R2, a recent update of Dynamics GP — have a chat with your vendor or Business Central provider to see how they can make this migration easier for you.
WhiteOwl's expert technicians are here to help you with all your Dynamics 365 Business Central needs. We'll provide you with a smart strategy for migration, deployment, and normalization. Request a FREE demo today.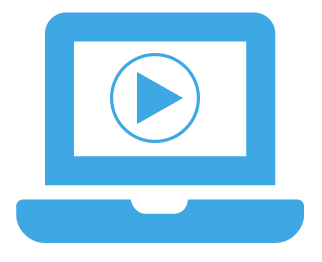 Get a Free Live Business Central Demo Now
With Business Central you can manage forecasts, meet customer demands faster, bring agility and efficiency, and increase your bottom line!