The purpose of Business Intelligence (BI) is to help businesses make better decisions.
Having inaccurate or incomplete information hinders managers to make good and wise decision. Fortunately, there are robust data tools that can integrate with Business Central to help decision-makers understand the data. One of those tools – POWER BI. In today's technological world, data is compiled endlessly and understanding these data trends and relationships requires more than just numbers; it requires a way for individuals at different levels of a business to visualize and understand the data.
A picture says a thousand words. This is where Power BI comes in. Power BI is a Microsoft app designed to simplify complex big data analysis through innovative machine learning and artificial intelligence (AI). By integrating seamlessly with Microsoft Dynamics 365 BUSINESS CENTRAL - Finance, Accounting, Operations, Sales and Inventory data can be visualized in easy to digest graphics, reports, performance measures and trends. But Power Bi doesn't stop with the image. The data behind the graphics is available, allowing users to drill down further into the dataset.
And, there's more. Power BI can connect to hundreds of data sources; presenting data with live dashboards and reports delivering information in meaningful, intuitively easier-to-understand visual images to management, employees, customers and potential customers.With the latest October 2019 update, Power BI has a new simpler look that builds on users' familiarity with other Microsoft products, making it easier to create, view and interact with reports. Users familiar with Excel will feel at home working with Power BI.
An extensive library of Power BI reports and dashboards expands Business Central's out-of-the-box usability. When the many visuals available with Power BI doesn't quite meet the user's requirements, developers can create custom graphics tailored to the business' needs written in TypeScript, a superset of JavaScript. Apps can be created to integrate with a Power BI dashboard in real time and Power BI tiles and reports can be integrated into apps.
Similar to 365 BUSINESS CENTRAL, in Power BI, Microsoft transforms the numbers behind the business into information more easily accessed by individuals throughout the organization, including those with limited programming experience. Within My Workspace, content is organized into 4 tabs: Dashboards, Reports, Workbooks, and Datasets.
DASHBOARDS are single pages, often called a canvases, that use visualizations (charts, graphs, point-in-time values) to tell a story. The visualizations are called "tiles" and are pinned to the dashboard by the report designers. Dashboard technology's intuitive design helps anyone, with or without prior training, utilize business intelligence software. In the dashboard example, 12 tiles are shown in a basic layout - not fully utilizing the range of visuals and information formats available to users.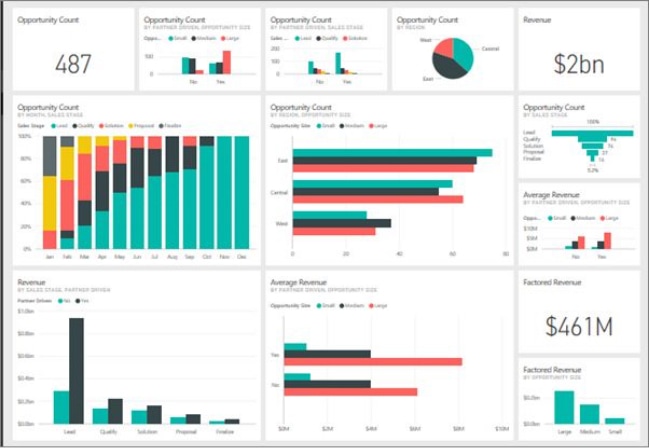 REPORTS take advantage of Power BI automation tools to generate Business Intelligence reports of one page or more on demand or on a set schedule, combining data from different sources into one location to share with the company decision-makers. With Power BI Reports Scheduler (PBRS) custom tasks can be run before or after report delivery, from sending emails and follow up communications to automation and workflow scheduling. PBRS is a flexible and intuitive Power BI automation tool for scheduling, exporting, distributing and delivering Reports and Dashboards.
WORKBOOKS are created when you import data from an Excel file using Connect, rather than Get data. The dataset appears in a Power BI Workbook just like it would in Excel Online, but it can't be edited. The data can be manipulated to create visualizations and comparisons and, unlike Excel Online, with Power BI there are some great features to pin elements from the worksheets right to Dashboards.
DATASETS are collections of data that Power BI can import or connect to and bring together in one place. Datasets can also source data from dataflows. When a workspace is opened, associated datasets are listed under the Datasets tab. Each dataset represents a single source of data, for example, an Excel workbook on OneDrive.
Power BI is designed to meet the needs of four levels of users - CONSUMERS, DESIGNERS, ADMIN and DEVELOPERS.
CONSUMERS use dashboards and reports created by others. Using Power BI, they review and interact with this content to make better business decisions.
DESIGNERS connect data, design queries, and create reports and dashboards.
ADMIN users manage the Power BI app for the business. This typically includes configuration of governance policies, usage monitoring, and provisioning of licenses, capacities, and organizational resources. The administrator is the guardian of data, processes, and policies in the Power BI tenant and helps support an organization to make sure that critical goals are met:
Understand the KPIs and metrics that users actually need
Decrease the time to delivery for IT-led corporate reporting
Increase adoption and return on investment from a Power BI deployment
It's up to the Admin to make business users productive and ensure security and compliance with laws and regulations.
DEVELOPERs may have the most fun, embedding custom visual and streaming datasets. They get to access the latest Power BI features – such as dashboards, gateways, and workspaces – when embedding content.
When you combine all the aspects of Power BI with Microsoft Dynamics 365 BUSINESS CENTRAL, users gain the power to make better business decisions through better information.
For more information on Power BI and integrating this app with 365 BUSINESS CENTRAL, please contact the team at WhiteOwl.
WhiteOwl has been a Microsoft Gold Partner since 1996 and has established expertise in Microsoft Dynamics 365 BUSINESS CENTRAL. WhiteOwl helps to capture the value of cloud-based Enterprise Resource Planning and optimizes your investment in BUSINESS CENTRAL. Part of our approach is to focus on the broader, long-term implications of technologies and how ERP best fits within your organization.