Intuit Quickbooks online is one of the most popular accounting and resource planning software of the past couple of decades. It remains popular today because it provides small businesses with easy navigation, management, and strong computing power in an affordable package.
The drawback with it, however, is that it has severe limitations for companies experiencing growth — and many businesses learn this the hard way. It is notorious for lacking dedicated project tracking, documentation, and comprehensive inventory management.
Related article: Best practices for managing inventory
A typical difficulty is when a business expands its warehousing and inventory handling. Quickbooks' software architecture doesn't allow for more than one warehouse location, forcing many users to get creative with their warehouse management needs. For fast-paced business environments, that's a disaster waiting to happen.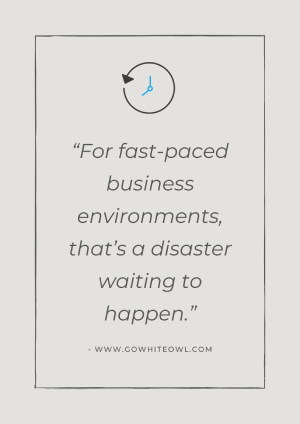 Is my business outgrowing Quickbooks?
Quickbooks is an excellent entry-level accounting system, and pound for pound, it provides great value for your money. It's affordable, simple, and it gets the job done. But at some point, it simply won't have the functionality to serve your growing business.
Here are some signs that will tell you if Quickbooks isn't good enough for your business anymore:
It doesn't provide enough tracking information
Quickbooks' online/base version only generates basic tracking information, and it does not have an automated lot tracking system. Many businesses make do by pairing Quickbooks with a manual or spreadsheet-based lot tracking system. However, this can be tedious and prone to human error, which can lead to worse problems.

It can't track unshipped orders
There is no sales order management tracking on Quickbooks, which forces many businesses to use traditional spreadsheet-based unshipped lot tracking methods. This often leads to confusion about which orders have been shipped out and which orders are still in the warehouse.

It can only accommodate one warehouse
Many businesses experience growth that leads them to expand warehousing. The problem with Quickbooks is that it only supports one warehouse location. It's impractical to avail of another Quickbooks account every time you open another warehouse location, and it's inefficient to manage one warehouse on Quickbooks while you manually track inventory for other warehouses.

It does not allow for batch invoicing
Multiple client billing is another feature absent in Quickbooks; on it, you can only send out invoices one at a time. This can get time-consuming and difficult, especially if you deal with many customers.

It only has generic features
Businesses operating in different industries have specific needs, especially when it comes to inventory management. For instance, healthcare companies dispense inventories differently from the way online retailers move theirs, so a one-size-fits-all solution may not be sufficient for everyone.
What system can I use?
Warehouse Insight is a comprehensive and scalable inventory management solution that many of WhiteOwl's Miami clients already use. This is good news if you use Microsoft Dynamics 365 Business Central — you can get a Warehouse Insight add-on to your Business Central subscription that will give it greater functionality than the entire Quickbooks system.
Related article: Applications you can integrate with Business Central
On top of its enterprise-grade warehouse and inventory management system, Warehouse Insight also has advanced features such as license plating, advanced inventory count, Dynamic Ship integrations, and activity logging that will truly maximize your Business Central investment.
If you're in the process of looking for an all-in enterprise resource planning system that has warehouse and inventory management, or transitioning out of Quickbooks, Business Central is the perfect long-term solution for you.
Miami businesses choose WhiteOwl because our expertise, experience, and level of customer service are hard to match. Experience the best of managed services and business transformation with WhiteOwl's products and services. Contact us today to learn more.
Everything You Need to Know about Microsoft Dynamics 365 Business Central is Here!
Before acquiring or upgrading your ERP (enterprise resource planning) software, you'll need more information before you make a decision that impacts your entire business. Read our free eBook: Microsoft Dynamics 365 Business Central