WhiteOwl Helps FNEI Increase Fundraising Efforts and Strengthen Donor Relations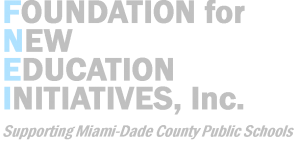 WhiteOwl implements Microsoft Dynamics CRM Online for nonprofit to improve donor management, speed up gift processing and better manage marketing activities to nurture donors and prospects.
Client Overview
The Foundation for New Education Initiatives (FNEI) is a rapidly-growing nonprofit organization based in Miami, Florida. Established in 2008, the mission of FNEI is to enhance student achievement and community engagement in support of The Parent Academy and other educational initiatives of Miami-Dade County Public Schools. The organization helps feed, clothe and shelter needy students and their families. FNEI also supports initiatives such as the Cultural Passport program with wireless devices, plus many other valuable programs to needy students and schools.
Project Challenge
FNEI was manually managing and tracking prospect and donor information using emails and spreadsheets. To grow their constituent and donor base, FNEI required a system that effectively managed communications and information for gift processing.
Other challenges included:
1) Developing and managing existing donors and donor-related communications.
2) Creating marketing lists targeting various segments of donors.
3) Importing new prospects into a centralized database and nurturing them until they became donors.
Solution
FNEI turned to WhiteOwl for their strong expertise with process improvement and software implementation that address specific problems related to nonprofits. WhiteOwl recommended Dynamics CRM Online because of its ability to customize features specific to nonprofit requirements. As a flexible, low maintenance solution that does not require any IT support or infrastructure, Dynamics CRM Online also provides nonprofits such as FNEI incredible savings.
Additionally, WhiteOwl provided FNEI with:
• Customized templates for soliciting gifts and donations
• Workflows that tracked incoming donations
• Training for Dynamics CRM Online
The Results
With Dynamics CRM Online, FNEI now has the ability to manage prospect and donor communications and nurture prospects. With a new sales and marketing tool, marketing campaigns are automated, trackable and measureable. The staff can now focus on creating campaigns aimed at increasing donations and serving donors and not manually managing donors through emails and spreadsheets.
Ann Stith de las Pozas, Executive Director at FNEI shared,
Working with WhiteOwl to implement Microsoft Dynamics CRM Online was a great decision for our organization. WhiteOwl's team understood the complexity and uniqueness that comes with being a nonprofit and they provided a modern solution for the challenges we faced. Being able to manage our donations and marketing activities with Dynamics CRM Online will certainly help our fundraising efforts while also strengthening our relationship and trust with current donors.
Key Success Indicators
Staff at FNEI can access Dynamics CRM Online anywhere, anytime
FNEI has increased fundraising efforts using marketing automation tools
With better donation tracking procedures, FNEI has improved donor relations
FNEI saved money with a low maintenance solution that does not require IT support or infrastructure