WhiteOwl Sponsored EMerge Americas In Miami
WhiteOwl's Stuart Rosenberg Moderated Session Focused on Open Source Cloud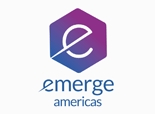 WhiteOwl, the technology affiliate of MBAF, was Diamond Sponsors at the eMerge Americas conference (www.emergeamericas.org) happened in Miami, Florida, May 1-5, 2015.
eMerge Americas is a global conference connecting entrepreneurs, business leaders and tech innovators to share ideas on technologies and innovation disrupting industries for the betterment of business and society. Over five days, the conference attracted more than 10,000 attendees engaging in networking events, thought leadership and interactive sessions.
eMerge Americas has partnered with NBCUniversal News Group and Telemundo to broadcast live, select programs providing interviews with key speakers and attendees as well as coverage of the numerous events and topics occurring during the conference.
A stellar line up of speakers include Deepak Chopra, physician and best-selling author, Jim McKelvey, co-founder of mobile payment company Square, and Martine Rothblatt, founder of Sirius Satellite Radio and Chairman CEO of United Therapeutics, along with many others. Event programming includes: eGov: Government Innovation Summit, Startup Showcase, Country Pavilions, and Women, Innovation & Technology.
WhiteOwl's President, Stuart Rosenberg, CPA moderated the "The Future of the Open Source Cloud" session that includes Bobby Patrick, Chief Cloud Marketing Officer at HP, and Rodolfo Molina, Director of Cloud & Managed Services at Cisco Latin America. The session took place on Tuesday, May 5 at 10:15 am on stage three. Distinguished by their team of technology professionals who are also CPAs, WhiteOwl at their booth showcased the latest updates and enhancements for Microsoft Dynamics CRM, GP and AX, as well as the cloud financial accounting system, Intacct.
About WhiteOwl
WhiteOwl (www.gowhiteowl.com) provides Business Process Consulting services leveraging Enterprise Resource Planning (ERP), Customer Relationship Management (CRM) and Managed Services. Headquartered in Miami, Florida, WhiteOwl is a Microsoft, Intacct, and Blackbaud partner providing a solid foundation of experience to over 1,000 clients nationwide. WhiteOwl is also the developer of PaperSave, a document management, workflow and transaction automation solution. WhiteOwl is an affiliate of MBAF, one of the nation's top 40 certified public accounting and consulting firms. For more information, go to www.gowhiteowl.com.
Vicky Durkin
Senior Marketing Manager
[email protected]
www.gowhiteowl.com